Post by Shard on Jun 6, 2015 21:12:07 GMT
Summer Coat
Winter Coat
| Four Years |
| Male ♂ |
| Alpha of The Gray |
| Mexican Gray Wolf |
| Heterosexual |
| Length: 5' 6" | Shoulder: 2' 10" | 125lbs |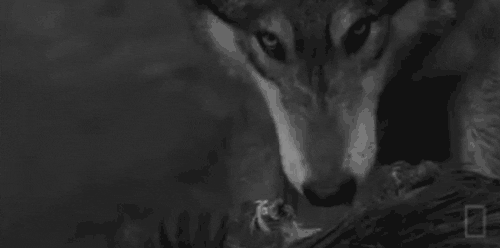 Tor's pelt is dense and compact, concealing the bulky, lean muscles that lie just underneath. Sometimes, when he runs, you may catch a glimpse of the unrestricted power that they contain as they ripple neatly beneath his coat. The sheer size of this brute gives some indication of the strength and stamina that he possesses where other aspects of him, such as his refined facial features, more fitting of a lean or handsome wolf, may not. The colours that his coat contains are somewhat common of the average Mexican wolf, a deep russet with flecks of tawny running through it, accompanied by a lighter, almost white, shade of brown on his underbelly, legs and paws and an ebon back. As for his eyes, they are a burning amber colour, with specks of lighter orange around the pupil, encased in a ring of deep auburn. His pelt is littered with the scars and memories of past battles, but perhaps the most significant one is the only that runs deeply along the length of his left shoulder, he is not proud of it.
Tor's personality and ego is almost as huge as he is, he knows that he's larger than other wolves and unfortunately this leads to arrogance. His arrogance has been an enormous flaw for him in his past, often underestimating the strength that smaller wolves can sometimes possess. Unfortunately, this also means that he finds it very difficult to make relationships, even platonic ones, with other wolves. Thus, Tor prefers to keep himself to himself, except when something provokes or irritates him, at which point the wolf that was ignorant enough to vex him will be the victim of the condescending, sarcastic words his sharp tongue can produce.
Perhaps what another would see as a flaw in him, but Tor sees very much as an asset, is his unyielding stubbornness and ambition. If this brute does not want to do something he will not do it. This can, again, create bridges between himself and other wolves that are difficult to cross. However, this stubbornness has been useful to him in his past, making him seem stronger or more dominant and although he often gets into scraps over his attitude, when he rarely shows it, he is proud of his stubbornness, seeing it as adding to his abundance of courage.
Tor views himself as superior in the fact that he has the ability to think beyond instincts, to think before he acts and to remain noble. Calculating every path in his mind and performing it with precision, dignity and a rather elegant loping stride, despite his bulk. Due to his extensive, pondering thoughts and the fact that he would probably do more damage than good, he often remains silent, speaking only when necessary, to voice his opinion or when provoked.
He is not a natural leader, given his reluctance to deal with others, however it could never be said that this wolf does not care about his pack.
The fierce loyalty of this wolf can have severe consequences. One of those consequences being the extreme lengths he would go to to seek vengeance for his pack, no matter how long forgotten the injustice dealt to them. When it comes to threats and enemies, Tor is merciless and a little too quick to resort to murder, if he's fighting, he's fighting to kill.
Do not be deceived by his initially off-putting exterior, beneath the dense exterior, he has good intentions at heart. Once you have earned his trust (and he does not give it out willingly), he is the best companion you could have hoped for, faithful and vigilant, albeit a little over-protective..
Due to his harsh, hostile shell, Tor is very difficult wolf to love. Although he acts as though it does not bother him, he is afraid of dying before he has the chance to feel true love. However, he is also frightened of making a connection with another wolf, because he does not want to get hurt. Which is an odd feeling for him as he is certainly not in the least afraid of being hurt physically. This brute does not know what love feels like and, as he is generally hostile to unknown feelings, he'd probably act furiously towards whoever had caused him to feel love. Any female would have to be extremely foolish to try and make any sort of romantic connection with him.